Clients
We are pleased to introduce our regular customers:
Limited Liability Company "VEGAS"
"Vegas" company is a manufacturer of mattresses and accessories to sleep. Over a long period of its existence, the company "Vegas" has traversed a glorious path from a small production that useв only manual labor to large industrial enterprise having the most modern equipment. From local brand Vegas has turned into a strong brand of international significance.
Website: http://www.vegas.by
Limited Liability Company "Engineering company" COMPO"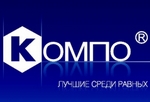 The company "comp" was founded in March 1991 with a view to the development of production and output of technically complex parts to carpet-weaving looms of foreign manufacture.
Today, products with the brand name "comp" is known to all enterprises of meat and dairy and poultry industry in more than 20 countries around the world. The high quality of the company's products and the degree of development of production have been repeatedly remarked on all the national and international levels.
Website: http://www.kompo.by/ru
Limited Liability Company "Tris - Network Service Systems"
The company "Tris - Network Service Systems" has been offering the most advanced solutions in the field of ventilation and air-conditioning facilities for the administrative, industrial and civil use for 15 years.
Website: http://tris.by/
SSE "Brest Regional Centre of Olympic Reserve in Aquatics"
The subject of activity of the Center is the development of water sports on the territory of Brest region.
Website: http://brest-dvvs.by/
Open Joint Stock Company "Brest Meat"
Over its 70-year history, "Brest Meat" has evolved from a local scale private enterprise to the leader in the meat industry in Belarus.
Website: http://www.brestmeat.by/
Limited Liability Company "Sharte"
The company "Sharte" was established a long time ago - in 1995 and for 18 years of its activity has firmly established in the Belarusian market.
The company's main office is located in Brest, and not by chance: it is through Brest border that "Sharte" established a strong link with European countries, supplying high quality balls to our country
Website: http://sharte.by/
Private Unitary Enterprise "TEU"
PUE "TEU" (heat and energy services) has been providing services for the construction, reconstruction, modernization, repair, adjustment, maintenance facilities warmth and energy, technological applications, gas distribution and gas consumption, automation systems, safety, alarm, remote control and boiler control and technological processes.
Website: http://www.tey.by/
Limited Liability Company "Eco-Energy"

"Eco-Energy" is the comfort of the environment! The main areas are heating, water supply, wastewater treatment, refrigeration, ventilation and air-conditioning.
Website: http://energobelarus.by/company/proektirovanie_i_montazh/eko-energo_iooo/